As of January 1st, 2013 Medicare will enforce it's new definition of custom ankle-foot orthoses which reads:
"Ankle-foot orthoses described by codes L1900, L1910-L1990 extend well above the ankle (usually to near the top of the calf) and are fastened around the lower leg above the ankle. The terminal height of an AFO shall be located between the proximal border of the gastrocnemius and the apex of the head of the fibula (a region that is generally 2-4 cm distal to the apex of the head of the fibula). These features distinguish them from foot orthotics."
You can read Dr. Richie's letter about the new changes here:Â Richie Brace Ultra
The new Richie Brace Ultra will be available through Allied as of December 26th, 2012. This brace will meet all the new Medicare requirements. The Richie Brace Ultra will reach a height within 2 cm of the head of the fibula. It retains all the functional features of the standard Richie Brace with the addition of a pre-tibial shell which is reimbursable and provides additional control of the lower limb. We ask that you note on your order form from now on if the patient is a Medicare patient and that the weight and height be filled in. Also casting with a mid-leg casting sock will be requested. If you have a brace currently in process and will not be able to dispense it by the end of the year, call client services to order your Retrofit Kit with Pre-Tibial Shell.
More information is to come in the next few days.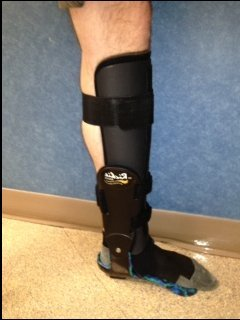 New Richie Brace Ultra: $395
Coding and Reimbursement:
                                                                                               Floor        Ceiling
L1970  AFO, molded to patient model with Ankle joint              602      803
L2340    Addition to lower extremity, pretibial shell                   378      504
L2820  Addition to lower extremity orthosis, soft interface        73         97
TOTAL Â  Â  Â  Â  Â  Â  Â  Â 1,053Â  Â Â Â Â Â Â Â 1,404
New RB order form with Ultra RB 12-12